Peloton released version 12.0 of the Peloton Digital app for iPhone and iPad this morning. Contained within the update is a new Peloton Digital Apple Watch app! Using this, you can use your Apple Watch as a heart rate monitor for workouts done with the Peloton Digital iOS app, as well as track and see your metrics as your workout is in progress. The release notes for this version state:
Introducing the Peloton App for Apple Watch. Track your heart rate in all workouts and your pace and distance during indoor runs. These improved controls and metrics are easily accessible, so you'll never have to slow down during a workout.
Now, before you get too excited about this, let's clarify a few things. No, this update (at this time) does not allow you to use your Apple Watch as a heart rate monitor for workouts done on your Peloton Bike or Peloton Tread. It *only* allows you to use the Apple Watch as a heart rate monitor for digital workouts done through the Peloton iOS workout (think on a non-Peloton treadmill, a random spin bike, or an outdoor run). Said another way – if you do your workouts on a Peloton Bike or Peloton tread, this initial version of the Peloton Apple Watch app is of limited benefit to you – it's designed to help those who are doing their workouts through their phones, not through the tablets on Peloton hardware.
For using an Apple Watch as a heart rate monitor for the Peloton Bike or Tread, you would still need to use the new third party app that came out last week, BlueHeart – there is a tutorial and video of this here. Or keep on doing what you've been doing and use a separate heart rate monitor (like the Peloton branded one or some of the popular alternatives like the Scosche Rhythm+).
At this point, for outdoor runs, you will still need to take your iPhone with you. Apple Watches starting with Series 2 have included a GPS chip, however, the initial features of the Peloton Apple Watch app appears not to take advantage of this possible functionality. We hope/expect that in a future release, they might take advantage of the GPS chip in the watch to enable you to complete your Peloton outdoor digital runs with the watch only, leaving the phone at home!
If you don't have an Apple Watch, what does this mean for you? Not much, really. The Peloton Digital iOS app was already capable of displaying and recording heart rate from other BLE bluetooth heart rate monitors. So you can continue to do that today. The only thing this added on was the ability for the Apple Watch to act as one of these heart rate monitors (and show you stats on your watch).
Finally – what about Android? The Apple Watch never pairs with Android, so no surprise here, this update doesn't help Android Peloton Digital app users. Since the Android app was released nearly a year ago, there has yet to be new features added to it – Android users are still waiting for the preload class functionality that was added to iOS months ago to be ported over to Android.
So, with all those questions out of the way…..how does this work for the iPhone and Apple Watch? It's pretty simple. Once you have the Peloton Apple Watch app installed on your watch, next time you start a workout via the Peloton Digital app on your iPhone, your heart rate will pop up immediately on the screen. Before you use it for the first time, you will want to go into the Preferences/Settings area of the Peloton app on your phone. There is a new section for Apple Watch App, where you can link and configure the watch app.
On your watch, you have a few screens of data available. Your heart rate will show, as well as the elapsed time of the workout. For an outdoor run, you will also see total distance. For all workout types, you can view the name and length of the interval you are currently in. The pause button is also available on the Apple Watch. Workouts done with the Peloton iOS app and the new companion Peloton Apple Watch app will continue to send data to the Apple Activity app and work towards closing your rings.
The requirements for the new Apple Watch app are simply that your watch be running Watch OS 6.0. Every Apple Watch is capable of running Watch OS 6, except except the original Gen 1 model. This means all the following Apple Watch versions should be capable of working: Apple Watch Series 5, Apple Watch Series 4, Apple Watch Series 3, Apple Watch Series 2, and Apple Watch Series 1 (note that Gen 1 is different than Series 1).
Want to check it out? You can download the latest version of the Peloton Digital App here from the iTunes store.
Stay tuned for a video demo of this coming in the next few days!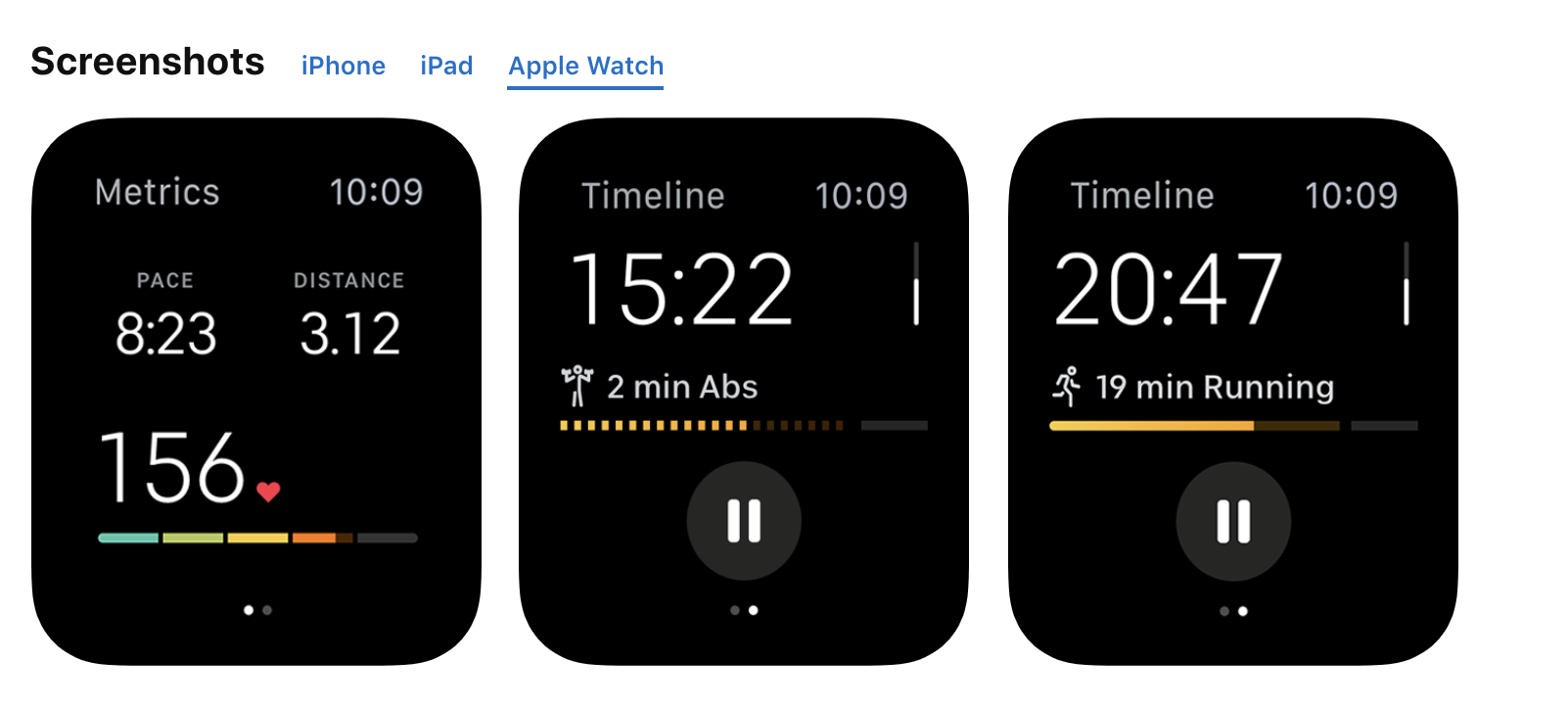 ---
Want to be sure to never miss any news? Sign up for our newsletter and get all the latest news sent directly to your inbox.