Peloton's website was updated this morning with a banner notifying users that Tread sales are resuming in "very select locations", with more coming soon. Sales of the Tread have been paused since March 22nd. This nearly 3 month pause has been due to Peloton changing to threshold delivery in an attempt to keep their delivery teams safe. With the Tread being as large as it is, it hasn't been feasible for it to be left on people's doorsteps like a bike can be.
Clicking the banner on Peloton's website will open a chat bot, where you are prompted to enter you zipcode. The tool will then check and notify you if you are able to make a purchse currently. If you are not in an eligibble zipcode, you can sign up to be notified when sales are available in your area again. If you are in a zipcode that has re-opened, you can then talk to a sales representative to make your order of a new tread.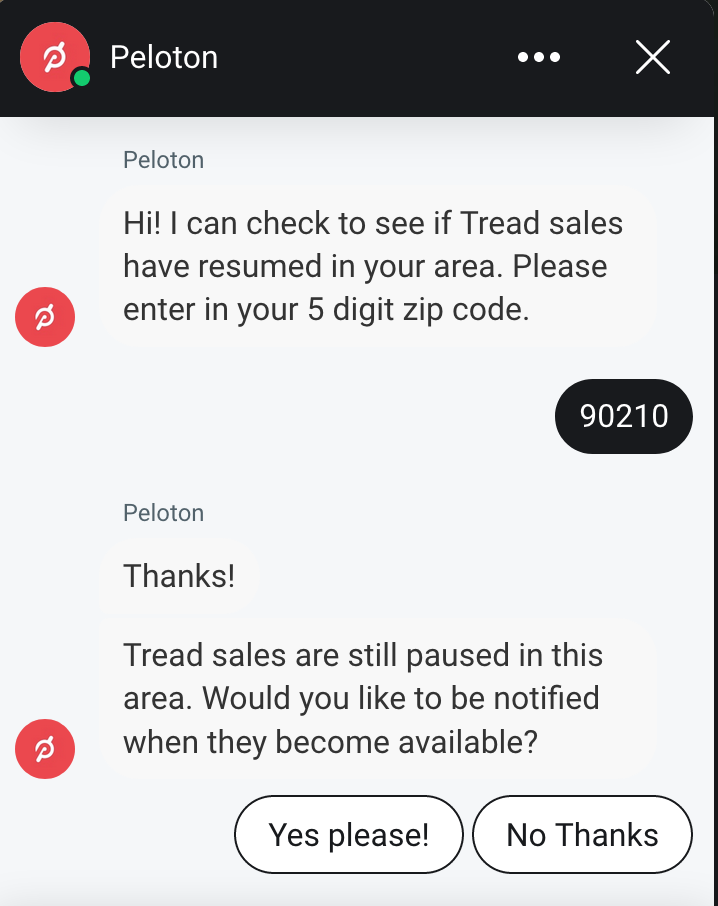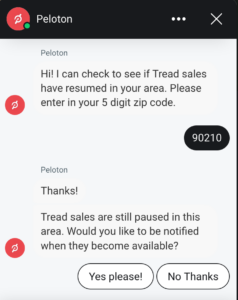 Early reports are that sales are only open in a few cities across three states – including Colorado, Florida, and Texas. As more and more states lift their restrictions and lockdowns, expect to see Peloton continue to add more zipcodes to the available list.
For those who have been waiting to get a new Tread, this is great news. For those who have been waiting on the smaller, lowest cost tread – the wait continues. We reported earlier this month that although Peloton remains committed to launching a cheaper treadmill, they have been forced to delay plans for the launch. The earliest the new Treadmill would be announced is once all or most of the Peloton showrooms are open.
---
Want to be sure to never miss any news? Sign up for our newsletter and get all the latest news sent directly to your inbox.